Modulation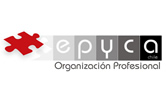 In Epyca Chile Professional Organization, our commitment is to analyze the client's idea with the group in charge of the project, in order to present them in a professional form the best way to promote their products and services in the most important fairground enclosures.

Knowing the real need to implement different spaces in the fairground enclosures, we offer our clients the integral advising in the election of the best suppliers for the implementation of quality stands, creating modern and innovated spaces and environments, made with ultramodern textures and materials that impress the public in an immediate and surprising way and guarantee a rapid benefit for the expositor. By this way, we invite the final buyers to want to use and pay in advance for their spaces in the fairground enclosure, allowing the Event Organizer to generate fresh resources that can be destined to other areas that rely on slower return.
Epyca Chile Professional Organization, will be always attentive to complement the fairground enclosure and the different stands with emphasized banners, furniture, showcases, roller, pop up, as well as, with the transport logistic, the assembly and disassembly needed to finally achieve a service of excellence for the exhibitor, complemented with the "Exhibitor Manual", a text for the client to feel his importance inside the Event.
Epyca Profesional Organization