What's ?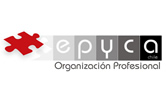 EPYCA Chile Professional Organization
EPYCA Chile Professional Organization, is created by Paulina Yuric M. who thanks to her experience of more than 18 years in the Managerial world in Events Organization, realizes from her own needs, that all companies that rely on this area of services require an Organization that can provide them Support, Advising and Professional Organization at moment of managing a Congress, a Convention, an International Fair, Incentive Trips or others.
In Epyca Chile Professional Organization, we become one more of your Company, forming part of your project from the beginning but being always a report of the Organization that contracts us.
Taking in mind all this and much more, we offer our clients the support of a Company as Epyca Chile Professional Organization that, together with the experience and professionalism of its people, allows to fulfill their client's expectations, taking in our hands the global management of all services involved in an Event Organization from a corporative gift up to the general coordination of an Event for 1.000 persons or more.
We invite you to contact us and meet with Pilar Lorca S., Sales Manager, or Geraldine Miranda, Operation Manager, who will be pleased to clarify any doubt or additional information you may have and see the best way to make concrete Projects of Quality and Excellence.
Epyca Professional Organization